Are you looking to start a book club over the summer? Have you already started one and are looking for new titles? The Library has you covered! Here are the newest Book Club in a Bag kits that we have available to checkout:
Being Mortal by Atul Gawande
"In Being Mortal, bestselling author Atul Gawande tackles the hardest challenge of his profession: how medicine can not only improve life but also the process of its ending
Medicine has triumphed in modern times, transforming birth, injury, and infectious disease from harrowing to manageable. But in the inevitable condition of aging and death, the goals of medicine seem too frequently to run counter to the interest of the human spirit. Nursing homes, preoccupied with safety, pin patients into railed beds and wheelchairs. Hospitals isolate the dying, checking for vital signs long after the goals of cure have become moot. Doctors, committed to extending life, continue to carry out devastating procedures that in the end extends suffering.
Gawande, a practicing surgeon, addresses his profession's ultimate limitation, arguing that quality of life is the desired goal for patients and families. Gawande offers examples of freer, more socially fulfilling models for assisting the infirm and dependent elderly, and he explores the varieties of hospice care to demonstrate that a person's last weeks or months may be rich and dignified.
Full of eye-opening research and riveting storytelling, Being Mortal asserts that medicine can comfort and enhance our experience even to the end, providing not only a good life but also a good end." -from Goodreads.com
The Children Act
by Ian McEwan
"A fiercely intelligent, well-respected High Court judge in London faces a morally ambiguous case while her own marriage crumbles in a novel that will keep readers thoroughly enthralled until the last stunning page.
Fiona Maye is a High Court judge in London presiding over cases in family court. She is fiercely intelligent, well respected, and deeply immersed in the nuances of her particular field of law. Often the outcome of a case seems simple from the outside, the course of action to ensure a child's welfare obvious. But the law requires more rigor than mere pragmatism, and Fiona is expert in considering the sensitivities of culture and religion when handing down her verdicts.
But Fiona's professional success belies domestic strife. Her husband, Jack, asks her to consider an open marriage and, after an argument, moves out of their house. His departure leaves her adrift, wondering whether it was not love she had lost so much as a modern form of respectability; whether it was not contempt and ostracism she really fears. She decides to throw herself into her work, especially a complex case involving a seventeen-year-old boy whose parents will not permit a lifesaving blood transfusion because it conflicts with their beliefs as Jehovah's Witnesses. But Jack doesn't leave her thoughts, and the pressure to resolve the case – as well as her crumbling marriage – tests Fiona in ways that will keep readers thoroughly enthralled until the last stunning page." -from Goodreads.com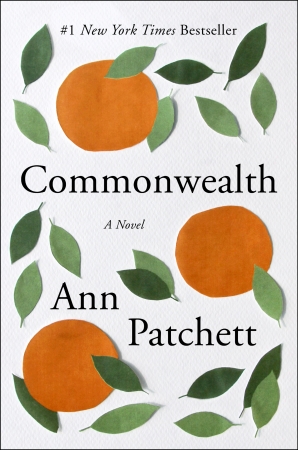 Commonwealth by Ann Patchett
"One Sunday afternoon in Southern California, Bert Cousins shows up at Franny Keating's christening party uninvited. Before evening falls, he has kissed Franny's mother, Beverly thus setting in motion the dissolution of their marriages and the joining of two families.
Spanning five decades, Commonwealth explores how this chance encounter reverberates through the lives of the four parents and six children involved. Spending summers together in Virginia, the Keating and Cousins children forge a lasting bond that is based on a shared disillusionment with their parents and the strange and genuine affection that grows up between them.
When, in her twenties, Franny begins an affair with the legendary author Leon Posen and tells him about her family, the story of her siblings is no longer hers to control. Their childhood becomes the basis for his wildly successful book, ultimately forcing them to come to terms with their losses, their guilt, and the deeply loyal connection they feel for one another.
Told with equal measures of humor and heartbreak, Commonwealth is a meditation on inspiration, interpretation, and the ownership of stories. It is a brilliant and tender tale of the far-reaching ties of love and responsibility that bind us together." -from Goodreads.com
Elephant Company: The Inspiring Story of an Unlikely Hero and the Animals Who Helped Him Save Lives in World War II by Vicki Constantine Croke
"Billy Williams came to colonial Burma in 1920, fresh from service in World War I, to a job as a "forest man" for a British teak company. Mesmerized by the intelligence, character, and even humor of the great animals who hauled logs through the remote jungles, he became a gifted "elephant wallah." Increasingly skilled at treating their illnesses and injuries, he also championed more humane treatment for them, even establishing an elephant "school" and "hospital." In return, he said, the elephants made him a better man. The friendship of one magnificent tusker in particular, Bandoola, would be revelatory. In Elephant Company, Vicki Constantine Croke chronicles Williams's growing love for elephants as the animals provide him lessons in courage, trust, and gratitude.
But Elephant Company is also a tale of war and daring. When Imperial Japanese forces invaded Burma in 1942, Williams joined the elite Force 136, the British dirty tricks department, operating behind enemy lines. His war elephants would carry supplies, build bridges, and transport the sick and elderly over treacherous mountain terrain. Now well versed in the ways of the jungle, an older, wiser Williams even added to his stable by smuggling more elephants out of Japanese-held territory. As the occupying authorities put a price on his head, Williams and his elephants faced his most perilous test. In a Hollywood-worthy climax, Elephant Company, cornered by the enemy, attempted a desperate escape: a risky trek over the mountainous border to India, with a bedraggled group of refugees in tow. Elephant Bill's exploits would earn him top military honors and the praise of famed Field Marshal Sir William Slim." -from Goodreads.com
The Nightingale by Kristin Hannah
"In love we find out who we want to be. In war we find out who we are.
FRANCE, 1939
In the quiet village of Carriveau, Vianne Mauriac says goodbye to her husband, Antoine, as he heads for the Front. She doesn't believe that the Nazis will invade France…but invade they do, in droves of marching soldiers, in caravans of trucks and tanks, in planes that fill the skies and drop bombs upon the innocent. When France is overrun, Vianne is forced to take an enemy into her house, and suddenly her every move is watched; her life and her child's life is at constant risk. Without food or money or hope, as danger escalates around her, she must make one terrible choice after another.
Vianne's sister, Isabelle, is a rebellious eighteen-year-old girl, searching for purpose with all the reckless passion of youth. While thousands of Parisians march into the unknown terrors of war, she meets the compelling and mysterious Gäetan, a partisan who believes the French can fight the Nazis from within France, and she falls in love as only the young can…completely. When he betrays her, Isabelle races headlong into danger and joins the Resistance, never looking back or giving a thought to the real–and deadly–consequences." -from Goodreads.com
A Man Called Ove by Fredrik Backman
"A grumpy yet loveable man finds his solitary world turned on its head when a boisterous young family moves in next door.
Meet Ove. He's a curmudgeon, the kind of man who points at people he dislikes as if they were burglars caught outside his bedroom window. He has staunch principles, strict routines, and a short fuse. People call him the bitter neighbor from hell, but must Ove be bitter just because he doesn't walk around with a smile plastered to his face all the time?
Behind the cranky exterior there is a story and a sadness. So when one November morning a chatty young couple with two chatty young daughters move in next door and accidentally flatten Ove's mailbox, it is the lead-in to a comical and heartwarming tale of unkempt cats, unexpected friendship, and the ancient art of backing up a U-Haul. All of which will change one cranky old man and a local residents' association to their very foundations." -from Goodreads.com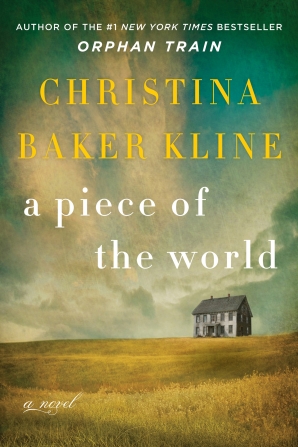 A Piece of the World by Christina Baker Kline
"From the #1 New York Times bestselling author of the smash bestseller Orphan Train, a stunning and atmospheric novel of friendship, passion, and art, inspired by Andrew Wyeth's mysterious and iconic painting Christina's World.
'Later he told me that he'd been afraid to show me the painting. He thought I wouldn't like the way he portrayed me: dragging myself across the field, fingers clutching dirt, my legs twisted behind. The arid moonscape of wheatgrass and timothy. That dilapidated house in the distance, looming up like a secret that won't stay hidden."'
To Christina Olson, the entire world was her family's remote farm in the small coastal town of Cushing, Maine. Born in the home her family had lived in for generations, and increasingly incapacitated by illness, Christina seemed destined for a small life. Instead, for more than twenty years, she was host and inspiration for the artist Andrew Wyeth, and became the subject of one of the best known American paintings of the twentieth century.
As she did in her beloved smash bestseller Orphan Train, Christina Baker Kline interweaves fact and fiction in a powerful novel that illuminates a little-known part of America's history. Bringing into focus the flesh-and-blood woman behind the portrait, she vividly imagines the life of a woman with a complicated relationship to her family and her past, and a special bond with one of our greatest modern artists.
Told in evocative and lucid prose, A Piece of the World is a story about the burdens and blessings of family history, and how artist and muse can come together to forge a new and timeless legacy." -from Goodreads.com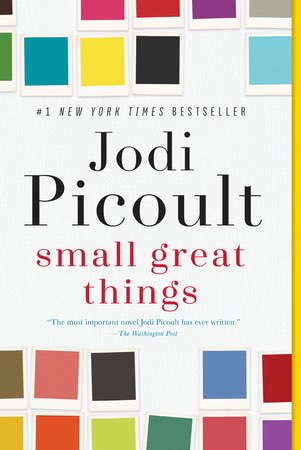 Small Great Things by Jodi Picoult
"Ruth Jefferson is a labor and delivery nurse at a Connecticut hospital with more than twenty years' experience. During her shift, Ruth begins a routine checkup on a newborn, only to be told a few minutes later that she's been reassigned to another patient. The parents are white supremacists and don't want Ruth, who is African American, to touch their child. The hospital complies with their request, but the next day, the baby goes into cardiac distress while Ruth is alone in the nursery. Does she obey orders or does she intervene?
Ruth hesitates before performing CPR and, as a result, is charged with a serious crime. Kennedy McQuarrie, a white public defender, takes her case but gives unexpected advice: Kennedy insists that mentioning race in the courtroom is not a winning strategy. Conflicted by Kennedy's counsel, Ruth tries to keep life as normal as possible for her family—especially her teenage son—as the case becomes a media sensation. As the trial moves forward, Ruth and Kennedy must gain each other's trust, and come to see that what they've been taught their whole lives about others—and themselves—might be wrong.
With incredible empathy, intelligence, and candor, Jodi Picoult tackles race, privilege, prejudice, justice, and compassion—and doesn't offer easy answers. Small Great Things is a remarkable achievement from a writer at the top of her game." -from Goodreads.com
How it Works
To request a kit, fill out an Online Request Form on our website (click here). 
A valid FTPL card is required.
Kits can be checked out for 6 weeks.
A kit may be renewed for an additional checkout if there are no holds.

Kits can be reserved up to 

6 months in advance, but must be made

at least

3 days in advance.

Hold cannot be placed through the library catalog.

For more information, please call us at 732-873-8700 ext. 101.
Each kit comes with 10 copies of the selected title and 1 Folder containing the following:
1 book tracking sheet.
1 Book Club in a Bag policies sheet.
Tips for leading a book discussion.
A reading guide/discussion questions.
An author bio and interview about the selected title (if available).
Thanks for reading!
-George, FTPL