Are you looking to begin creative writing and are having trouble getting started? Or, have you been writing for years and are in need of inspiration and/or practical tips? We can help you with that! While the library is home to many of the numerous print books and ebooks on the subject of writing help, we've selected three standout titles (two classics and one newcomer) which come highly recommended for those in need of writing advice. As with any great writing guide, these books don't only provide practical writing tips, but also offer insights into sources of inspiration, the philosophy of being a writer, and the business of living life.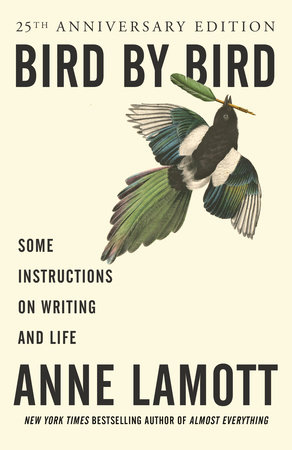 Bird by Bird: Some Instructions on Writing and Life by Anne Lamott
"'Thirty years ago my older brother, who was ten years old at the time, was trying to get a report on birds written that he'd had three months to write. [It] was due the next day. We were out at our family cabin in Bolinas, and he was at the kitchen table close to tears, surrounded by binder paper and pencils and unopened books on birds, immobilized by the hugeness of the task ahead. Then my father sat down beside him, put his arm around my brother's shoulder, and said. 'Bird by bird, buddy. Just take it bird by bird.'
With this basic instruction always in mind, Anne Lamott returns to offer us a new gift: a step-by-step guide on how to write and on how to manage the writer's life. From "Getting Started,' with "Short Assignments," through "Shitty First Drafts," "Character," "Plot," "Dialogue." all the way from "False Starts" to "How Do You Know When You're Done?" Lamott encourages, instructs, and inspires. She discusses "Writers Block," "Writing Groups," and "Publication." Bracingly honest, she is also one of the funniest people alive.
If you have ever wondered what it takes to be a writer, what it means to be a writer, what the contents of your school lunches said about what your parents were really like, this book is for you. From faith, love, and grace to pain, jealousy, and fear, Lamott insists that you keep your eyes open, and then shows you how to survive. And always, from the life of the artist she turns to the art of life." -Goodreads.com
Letters to a Young Writer by Colum McCann
"Intriguing and inspirational, this book is a call to look outward rather than inward. McCann asks his readers to constantly push the boundaries of experience, to see empathy and wonder in the stories we craft and hear.
A paean to the power of language, both by argument and by example, Letters to a Young Writer is fierce and honest in its testament to the bruises delivered by writing as both a profession and a calling. It charges aspiring writers to learn the rules and even break them.
These fifty-two essays are ultimately a profound challenge to a new generation to bring truth and light to a dark world through their art." -Goodreads.com
On Writing: A Memoir of the Craft by Stephen King
"'Long live the King' hailed Entertainment Weekly upon the publication of Stephen King's On Writing. Part memoir, part master class by one of the bestselling authors of all time, this superb volume is a revealing and practical view of the writer's craft, comprising the basic tools of the trade every writer must have. King's advice is grounded in his vivid memories from childhood through his emergence as a writer, from his struggling early career to his widely reported near-fatal accident in 1999 — and how the inextricable link between writing and living spurred his recovery. Brilliantly structured, friendly and inspiring, On Writing will empower and entertain everyone who reads it — fans, writers, and anyone who loves a great story well told." -Goodreads.com
Please leave a comment below or call 732-873-8700 ext.111 if you have any questions about checking out these books or any other materials from the library.
Thanks for reading!
-George, FTPL